SUPER JETPACK MOM! is a jetpack level made by stamsarger. Its title is almost the same as Super cj1's JETPACK MOM! but the gameplay is different. As you've probably guessed (if not, you're an idiot), Irresponsible Mom is the forced character. It was published on June 21st and it has a rating of 4.67 (3.31 weighted) out of 6 votes with 1,808 plays.
Background & colors
The background is black and the text next to Irresponsible Mom at the beginning is yellow, font type: 5. When the player starts playing (by pressing Space) the jet will launch them towards a lot of different colors (which are made to distract the player and make the level more beautiful.
Gameplay
First off, Irresponsible Mom starts within the jetpack vehicle and lands on a black rectangle (which is invisible because the background is also black). Next to her, there is some text:
"happywheels.wikia.com
your-best-levels.wikia.com
Space to play"
And below that, there are the logos of Your Best Levels and Happy Wheels wiki.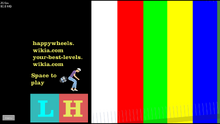 After you press Space, the jet will launch you towards the spikes (which are almost invisible). The finish line can barely be seen. There's also a trigger victory in case the player doesn't win via the finish line.
Trivia
It's the fifth jetpack level by stamsarger, and the second one with Irresponsible Mom as forced.
The 4th level by stamsarger with Irresponsible Mom as forced.
There is a black art rectangle which seems invisible, while it's not.
It's really short.
I was going to publish a tutorial making this level but I didn't.
One of the most successful stamsarger jetpack levels.
I had placed a trigger victory which can be triggered by the vehicle, but I realised this was stupid by
testing the level.