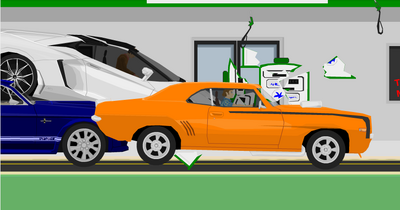 Ultimate Speed Drive is a level by bobisdacool1. It currently has over 100,000 plays and a rating of 4.57 out of 480 votes. The forced character is Moped Man. It is a custom vehicle level. In the level, you will play a race. The level was submitted at Easter.
Description
This is a highly detailed level, with custom-drawn cars used from bobisdacool1's previous level, Speed Drive X. You start out in a parking garage inside a white Lamborghini Aventador. A fellow crew member telling you that you must win a race against two other rival crews. You pull up to the starting line, and the race begins against a blue Shelby Mustang and an orange Chevrolet Camaro. You crash through a construction site before going down a hill and reaching the first checkpoint. Then, you head in reverse through a run-down part of town and then through "Da Club". Next, after heading down a hill with billboards, you come to the second checkpoint. You then head forward again and attract the attention of the cops. You crash through a gas station and past a few roadblocks before jumping over a broken bridge to the finish line.
Trivia
This was a revamped version of a harder level, Street Rider.
There are 2 easter eggs hidden in the level, as this level was submitted on Easter. Can you find them?
There is a major glitch where if you lose the race, the end screen will say "You won!" as well as "You lost..."