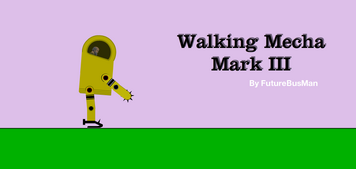 Walking Mecha Mk 3 is a vehicle level created by FutureBusMan. It stands at 410,000 plays with a rating of 4.57 stars and nearly 800 votes. Wheelchair Guy is the forced character.
About the level
This level is basically a demolition lab. You first make your way up a small flight of stairs to then fall down and smash a set of vans. You break glass and then make your way to the finish, killing all of the human test dummies as you do so.
Trivia
This is one of the few levels created by FutureBusMan that Toby Turner (Tobygames) has not played
PewDiePie played this level on August 27, 2013, in one of his last episodes
The Mecha had a leaping ability, allowing the controller to leap both forwards and backwards in the mecha. This ability was scrapped due to it's unreliability.
A test version of Walking Mecha Mk IV was released on June 5, 2014. It had received moderately high ratings and has around 125,000 plays.